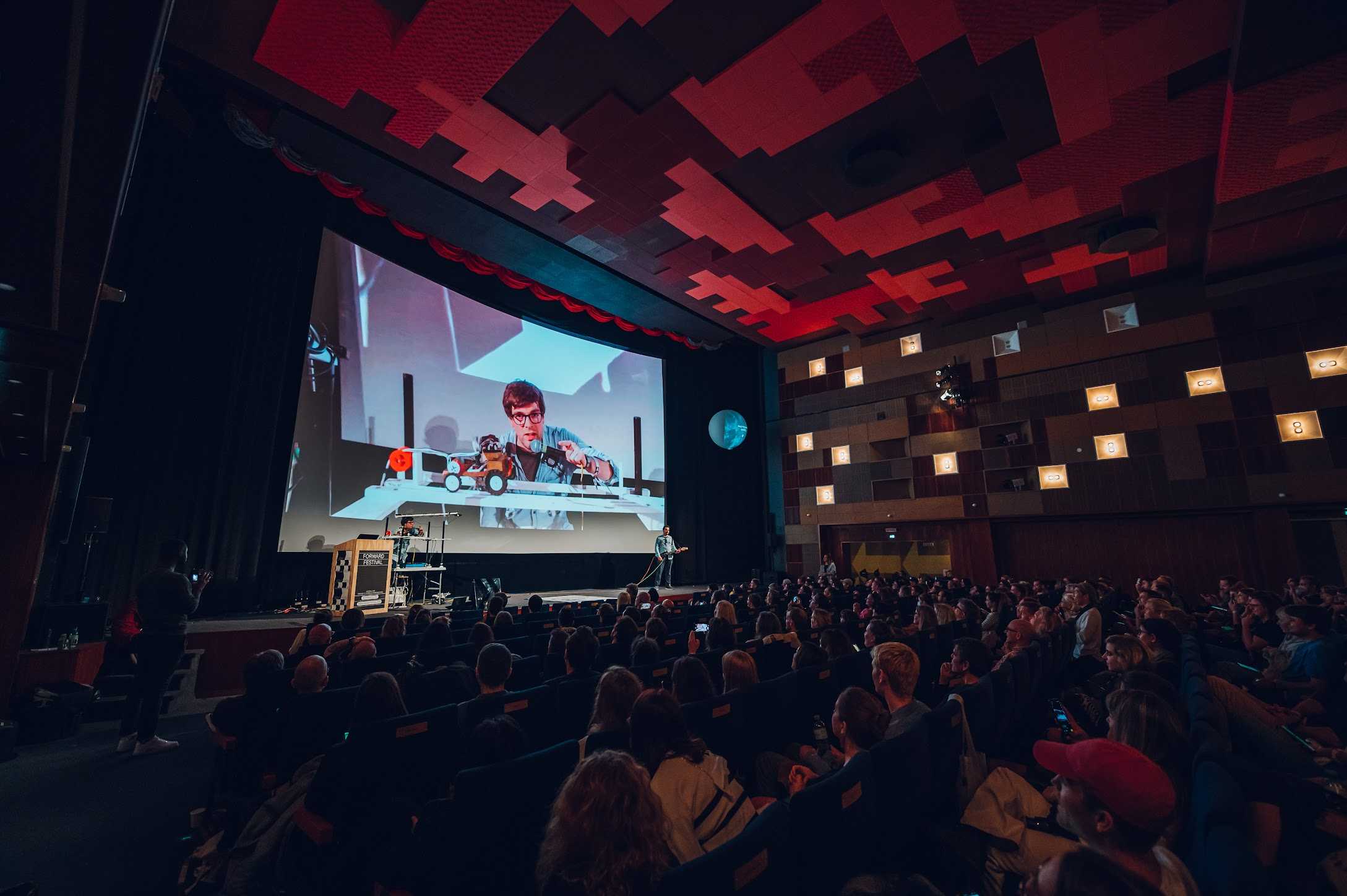 What we do
Award winning interactive comedy live & online where everyone joins in using their phones.
Click's feature on us and our show Robo Bingo
Entire audience games
We made our massively multiplayer game
"Avoid the Zeros"
Everyone controls a letter on screen - tapping their phone to avoid the zeros falling down from the sky
Our awarding winning Robot Chef has the audience control flames, sausage cannons and beans in a chaotic, robotic kitchen
Via Augmented Reality in-person or online, attendees own drawings come to life and control our DIY robotics.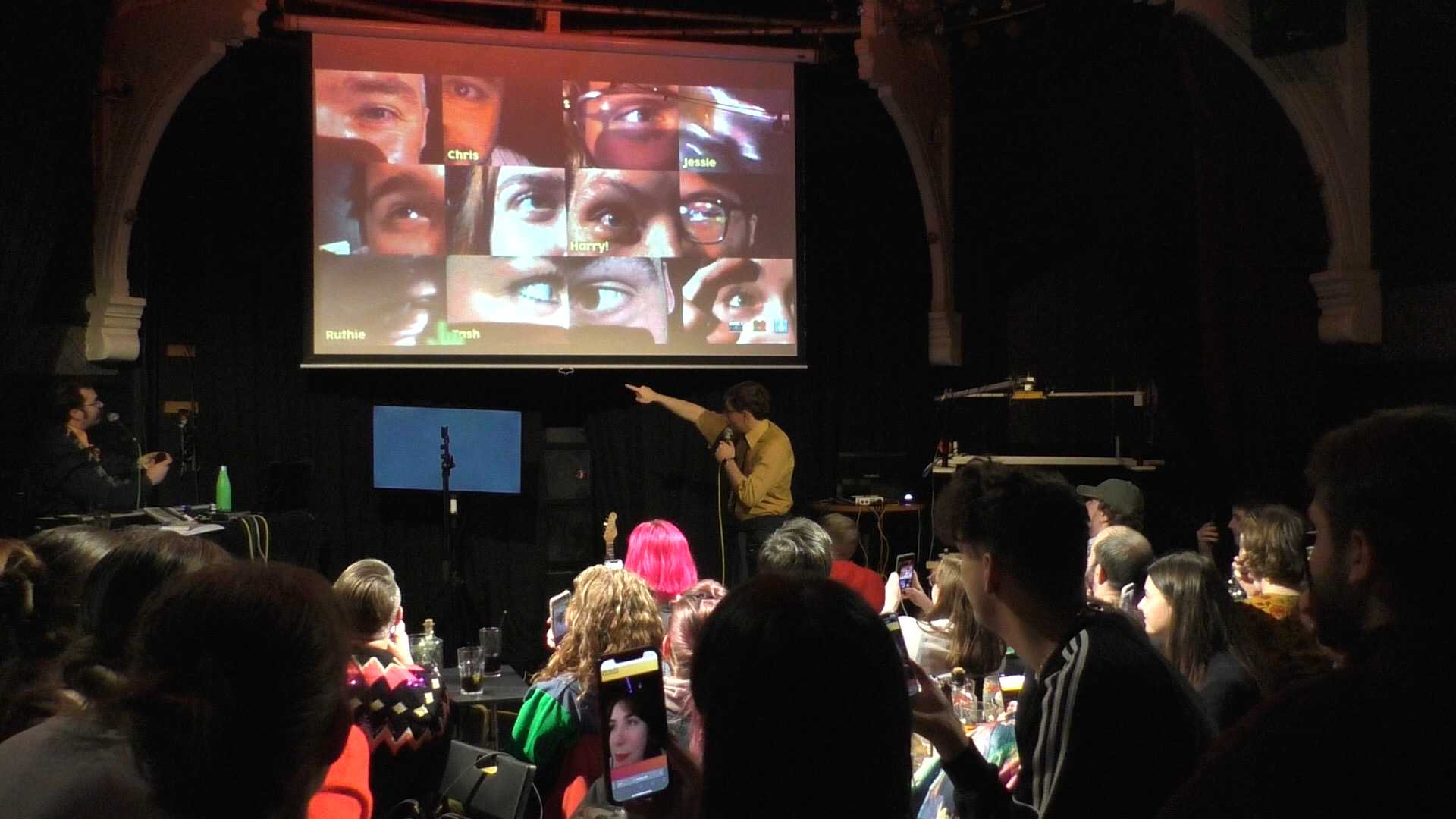 Everyone's Phone Camera On The Big Screen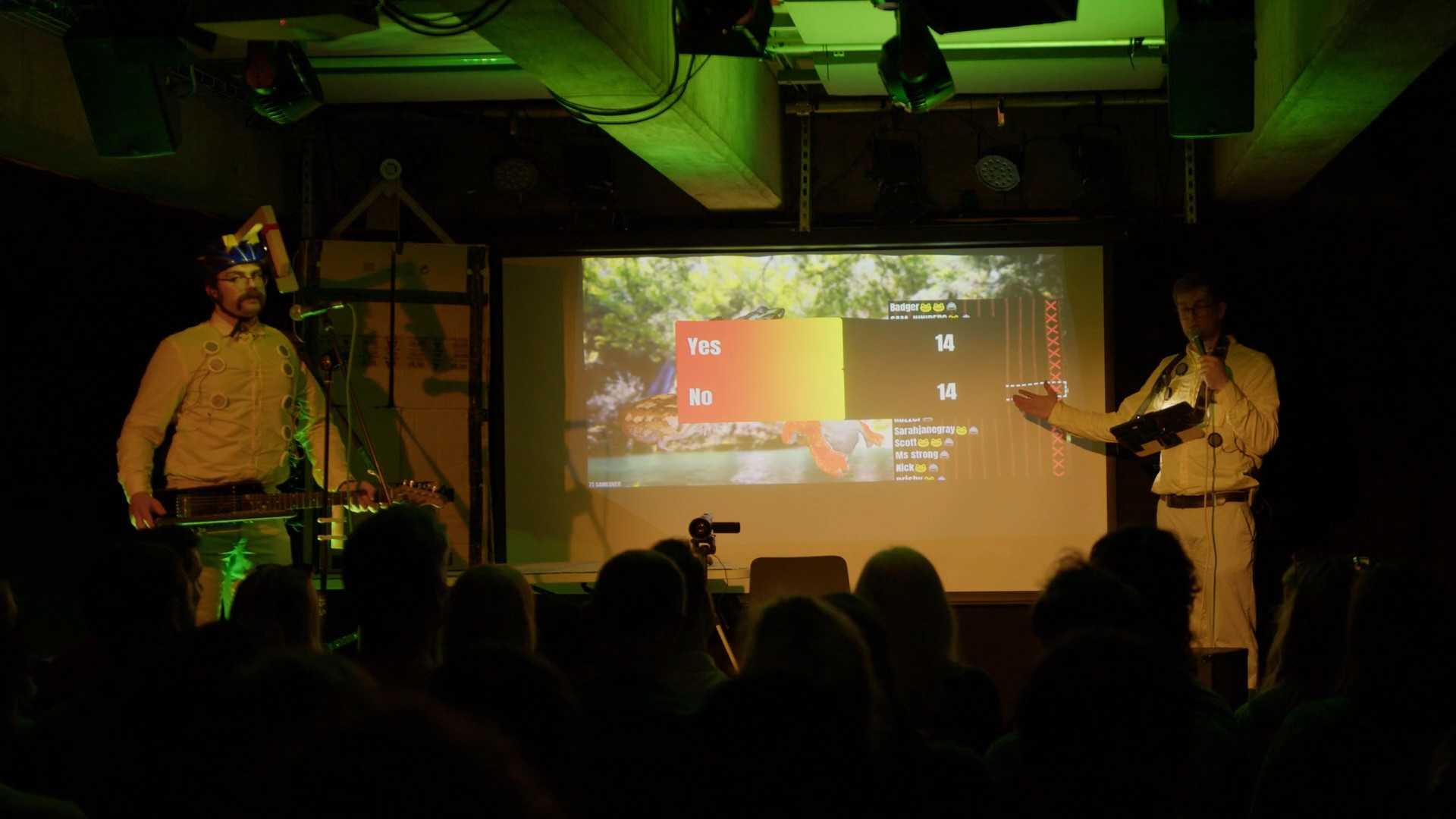 Voting, Polls & Quizzes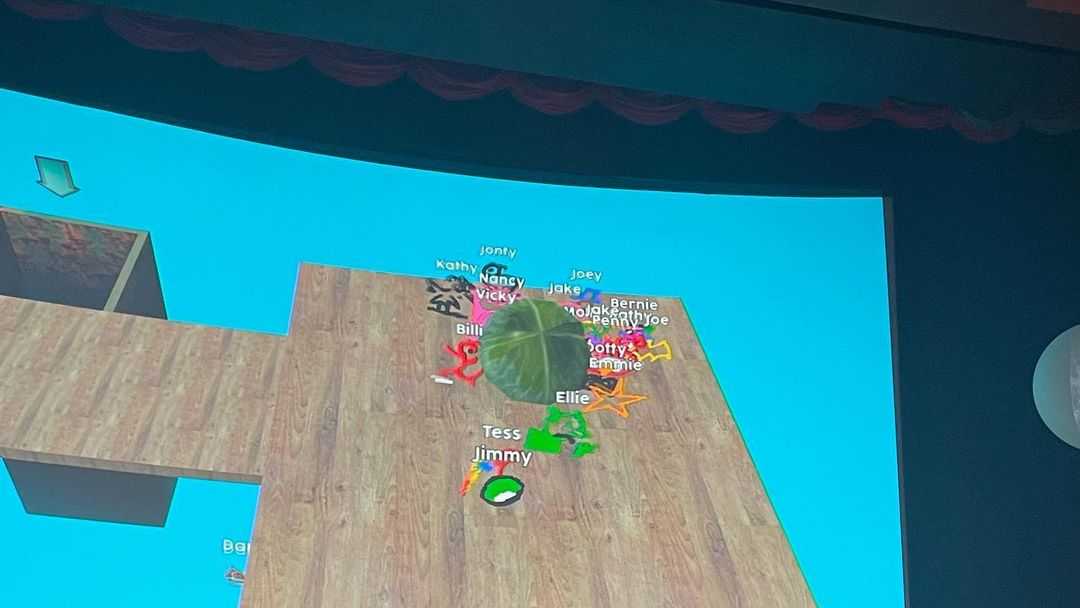 Group Challenges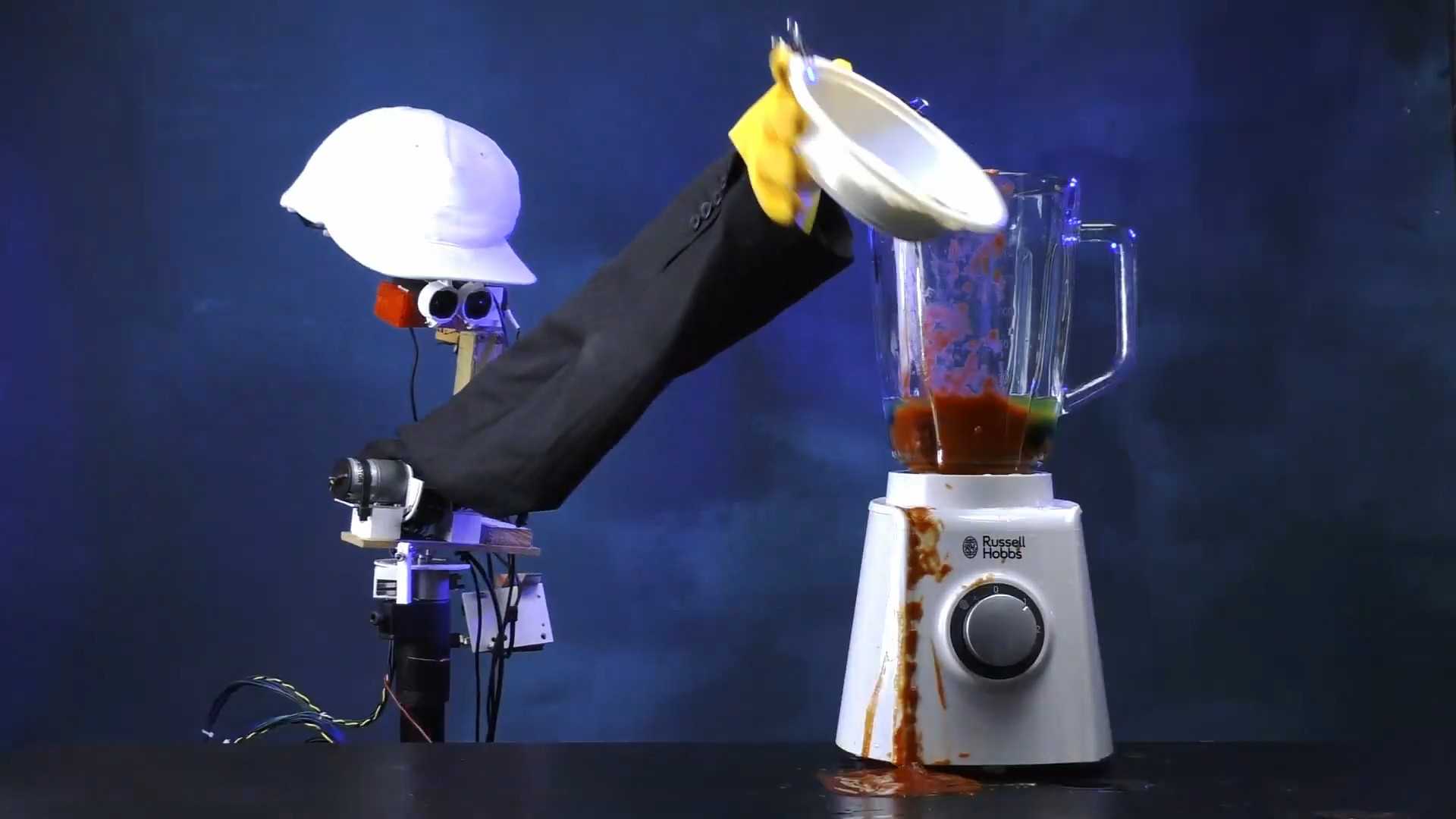 Ridiculous Robotics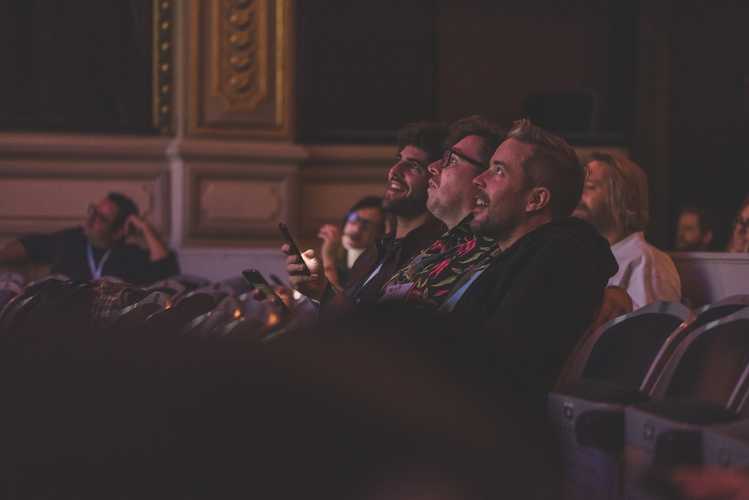 Everyone plays. No one leaves their seats.
Attendees instantly join with their phones.
Our custom software makes it as easy as connecting to our WiFi and going to a website - no app downloads.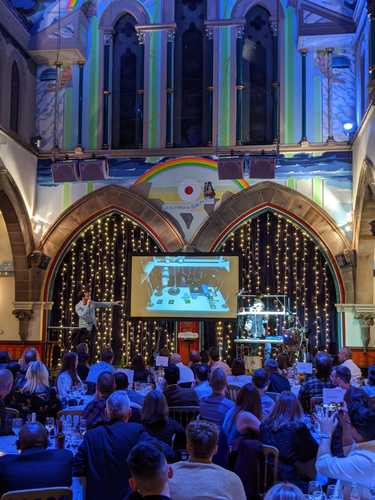 Suitable for events of all scales.
Our technology just works everywhere.
Award Ceremonies
Dinners
Conferences and Expos
Outdoor festivals
Easily integrating into your event's AV/tech setup. We can even bring everything needed to perform direct to you.
Whether it's 10 people in Teams or Zoom, or 1000s on Airmeet or YouTube, our software lets us perform to online audiences of any size and on any platform.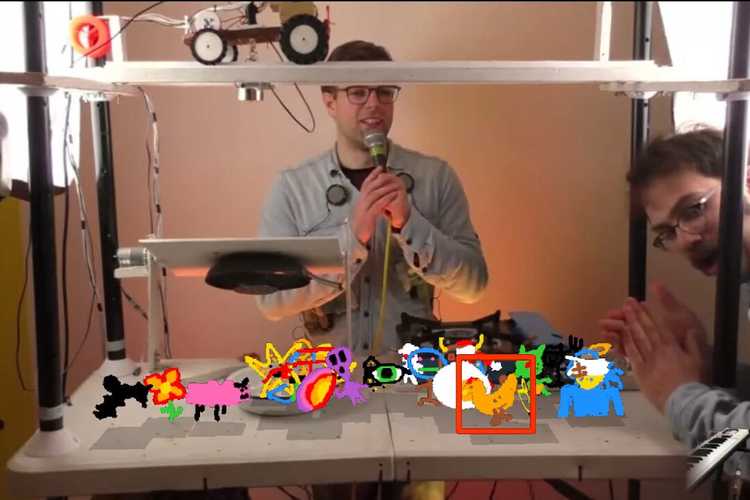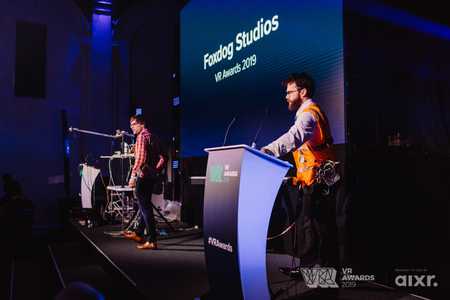 For the 2019 VR Awards, we collaborated with the organisers, AIXR, to create them a custom cocktail-making-robot. Pouring, mixing and shaking of the drink was done by the audience using their phones to control our DIY robot.
"Hedgehog Croquet" - for an interactive online "Alice in Wonderland" event, we let participants draw and control their own hedgehog and roll it together around a virtual obstacle course.
Custom Shows and Experiences
Let's create something entirely new for your event
Games + Virtual 3D Spaces
Multiplayer, online and in-person
Robots
Perform crazy tasks or fire sausage from cannons
Polls + Q&A
Get instant feedback from your audience
Collabortive Creativity
We can create unique collaborative digital experiences for your particpants. A giant jigsaw puzzle themed around the event? An archielogical dig to uncover an inspiring artefact? We'd love to talk ideas with you.
Foxdog Studios, Peter Sutton and Lloyd Henning (pictured left and right), are computer programmers turned live performers.
From a genuine start as IT consultants, they've taken their unique abilities as programmers to create a distinct brand of tech comedy.
Since 2014, they have created 6 critically acclaimed shows at the Edinburgh Fringe Festival. Delighting audiences with their uncynical and social approach to technology.
Their latest show Robo Bingo was a featured segment on BBC's Click technology show. They've also appeared on Channel 4's The Paddock, had a full page about them in Wired , been featured in The Observer, and been Timeout London's ones to watch.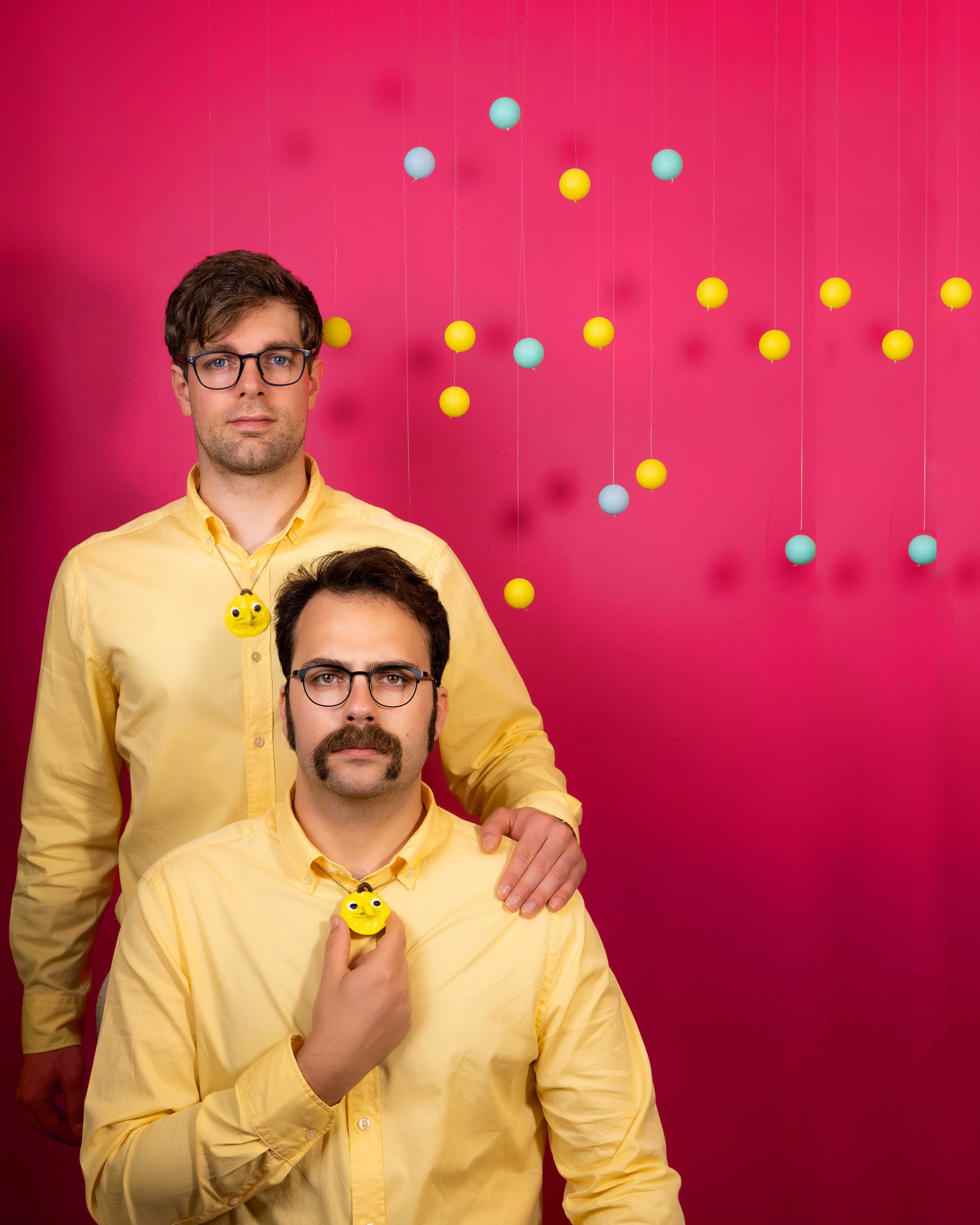 Foxdog Studios did an amazing performance and we think they were the perfect match for DADI Awards. Looking forward to having them again!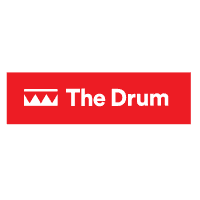 Foxdog Studios are an innovative, highly professional, and incredibly exciting duo, who think way beyond the outside of the box, and are doing something the rest of us are still daydreaming about. They inspired the group that we worked with to stretch their minds beyond the obvious capabilities of technology, and to thoroughly get the creative juices flowing. The event itself was entertaining, enlightening, but most of all, hilarious. We would absolutely highly recommend, and look forward to inviting them back to London to work with us again and again