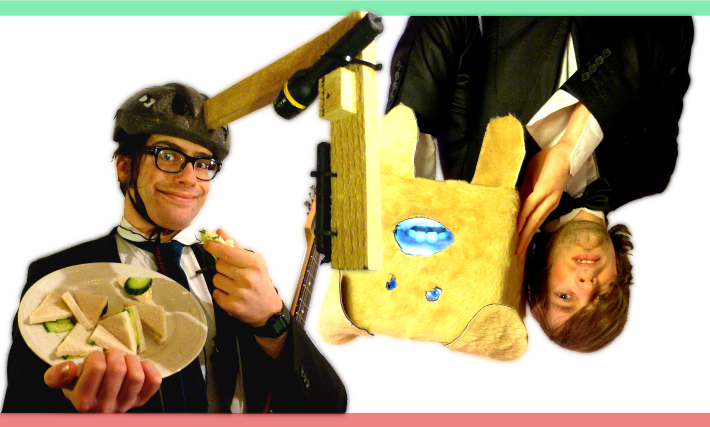 On March 1st 2014 at Fuel Cafe in Withington, Foxdog Studios will be performing the largest work of IT Rock N Roll so far.
IT Rock N Roll - Business Trip to the Future is an hour of rock 'n' roll combined with homemade computer programs, mixed into the story of two nerds becoming cool. It's entertainment from the future for an audience of the present.
As teenagers, Foxxy and Eldog wanted to be rock stars but accidently did degrees in computer science. Now they run Foxdog Studios Ltd., a failing startup, hit hard by the recession and a lack of investors for their J-cloth shirt (patent pending).
Despite their current downturn, they know success is inevitable. To expedite their rise to the top and skip the hard work, they acquire licenses to time travel and head thirty years into the future. Here, they steal their future selves' most successful invention: I.T. Rock 'n' Roll.
For those who haven't been to 2044, the future will allow you to;
Rock out with a Godzilla singing lyrics texted in by the audience.

Play as a punctuation mark on our projector screen, avoiding falling zeroes
using your smartphone as a controller, and win the grand prize of da 'erb (usually parsley).
Watch as body tracking turns Foxxy into the world's most exhausting dancing synthesizer.
Laugh, cry and learn more about cables as Foxdog Studios takes you on a business trip to the future.