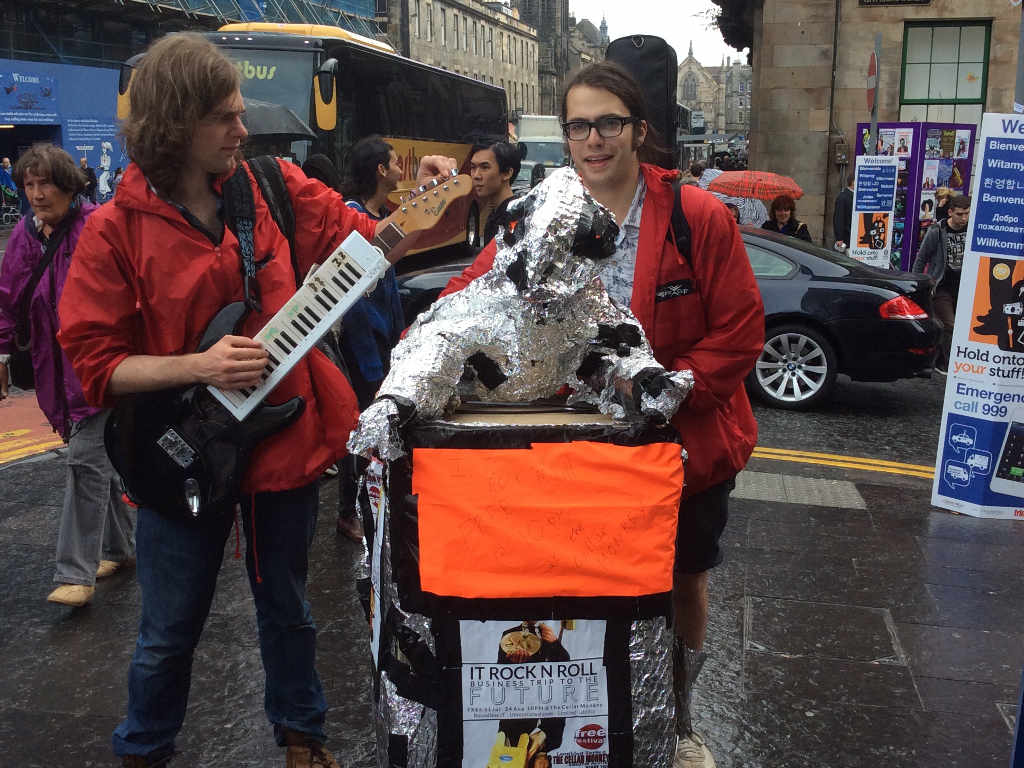 Through this question and answer session, we present our findings from Foxdog Studios' venture to Edinburgh Festival Fringe with guitars, drums and computer programs.
P.S. Thanks to Andrew Sinclair who took that lovely picture of us in full IT attire on the George IV bridge.
Leaving earlier than you think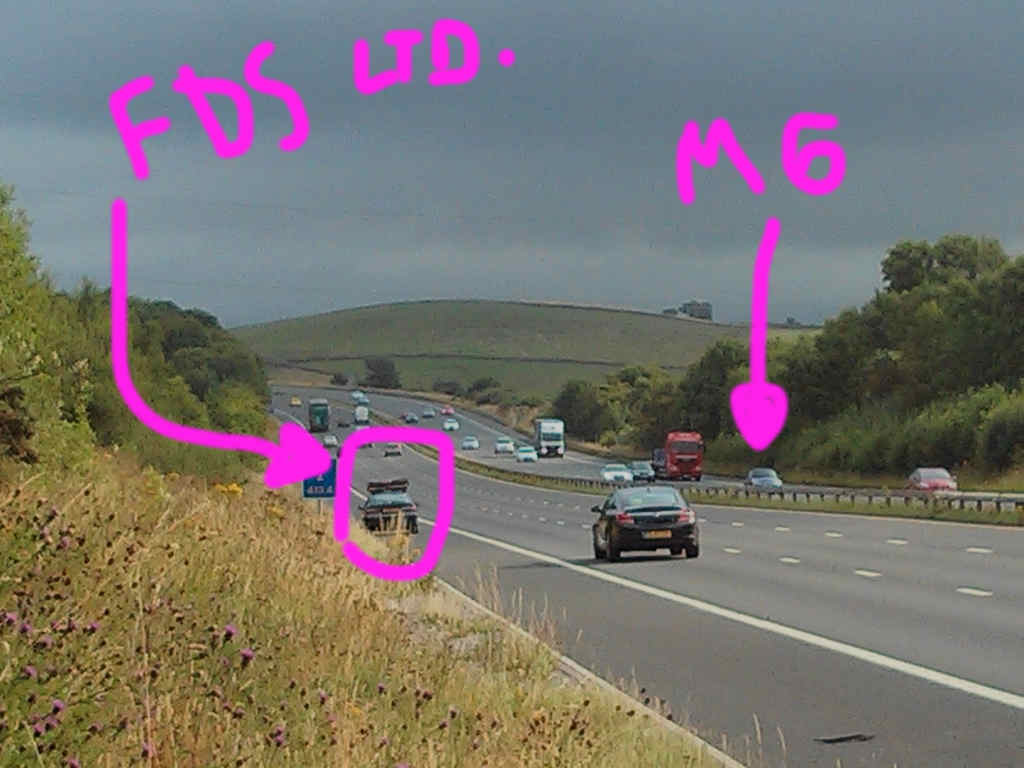 Q. When did you leave for Edinburgh?
The day before our first show. Left Manchester at 7am. Plan was to arrive in Edinburgh around midday.
Q. A good plan then?
No
Q. Why not?
Our car exploded with steam going through the Lake District.
Thanks to Pete's Dad's breakdown cover, we were able to get towed to Killington Lake services, and then to a garage in Carlisle. The top mechanics at John Macadam & son (Garages) Ltd bypassed our heater core and put FDS back on the road to stardom.
Next time we will
Arrive three days early to prepare, put up posters, break down etc.
Stay an extra day at the end to see all the shows that are still on.
Free show for us nobodies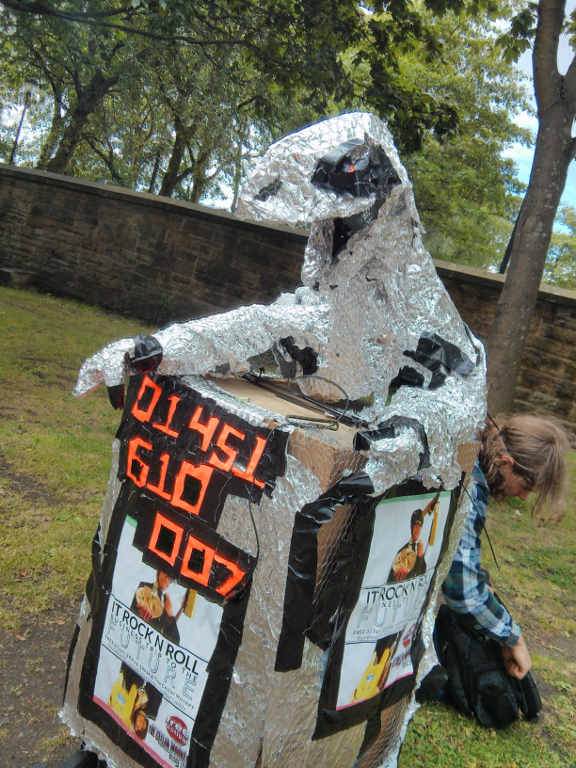 Q. Free or paid show?
Free (with donations at the end) was how we rolled. The venue was free to book (we were quoted £3k-4k for some paid spaces, and we're too stupid to know how to make kind of £££ back).
We applied via Laughing Horse Free Festival's website for small venues with enough stage space for our projector screen and electronic drumkit. Never having gone to Edinburgh before, we had never seen or heard of any of these venues and just guessed. In the end, we were not allocated any we had applied for, so we had to try and get in one of the spare spaces and at 5am one morning in March we applied via email to play at The Cellar Monkey at 10pm.
Q. Was a random slot any good?
Fortunately, The Cellar Monkey is a great venue with lovely staff. At 10pm the adjoining pub upstairs was full of patrons who we could coax down to see us prat about. Probably lucked out on that one.
Next time we will
Still go free.
Maybe apply for the same venue as we are familiar with the layout.
Soak your flyers in relevant information
Q. Your flyers look like they were made by professionals?
We actually designed our flyers ourselves because we believe we can do anything.
Q. You didn't let me finish. They look like they were made by professional IT consultants?
They may have been done on the cheap by ourselves, at the last minute - but the main problem that we faced with them was that they lacked some crucial pieces of information.
Q. Can you do some analysis?
Certainly: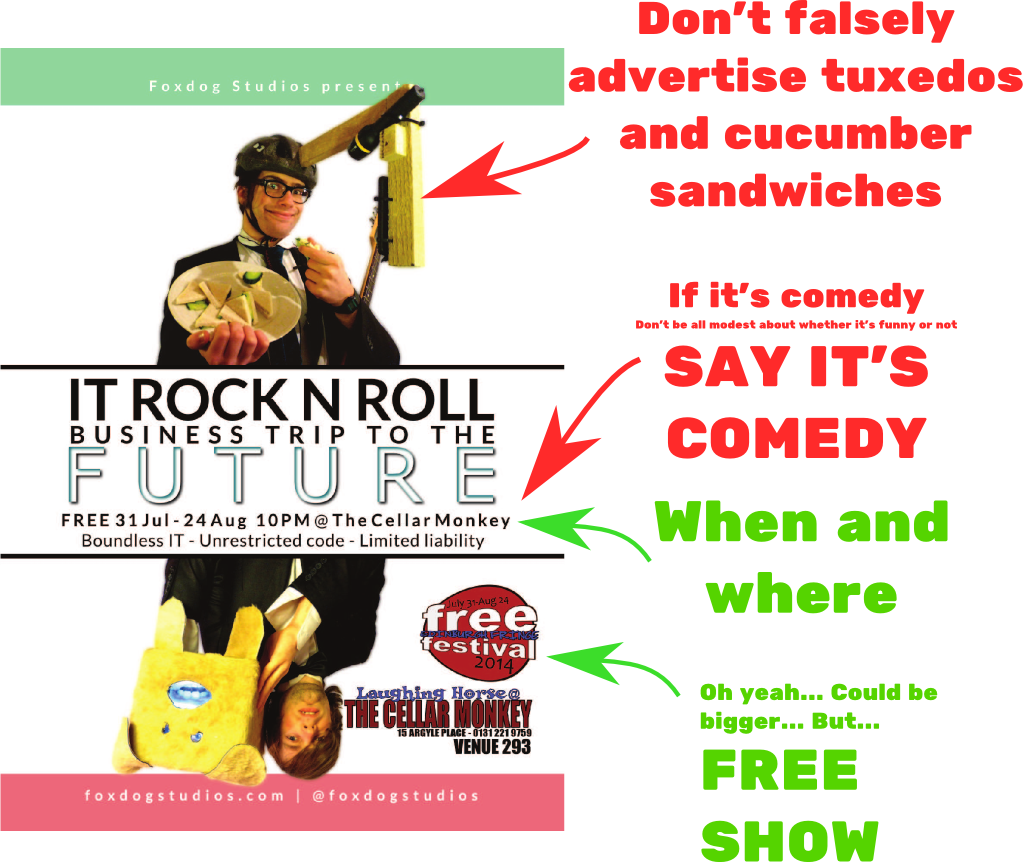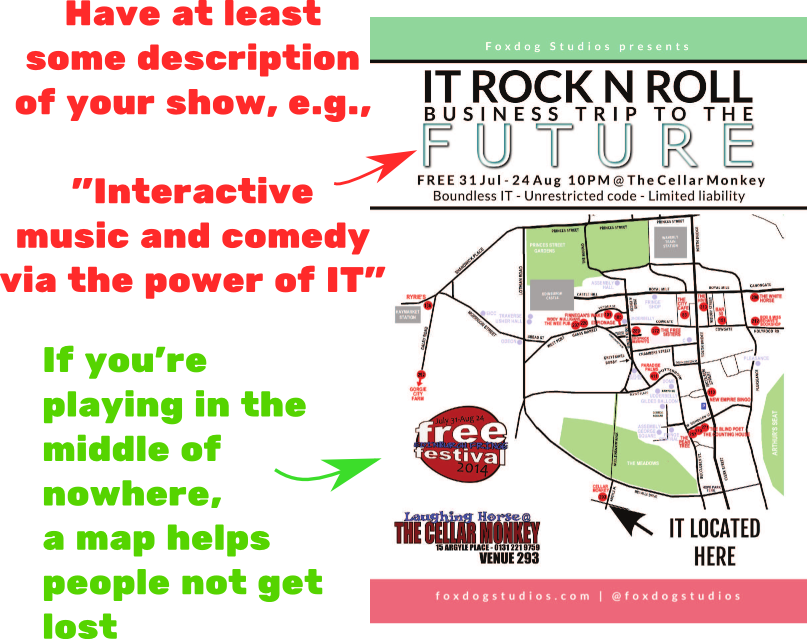 We ordered A6 flyers, which are a good size for putting in your pocket, and having double sided flyers prevents that unsatisfactory moment where someone flips over your flyer to a blank side.
We only used around half of the 5,000 flyers we ordered, so we could have saved a lot of trees. It is important to remember one can always order more when supplies begin to dwindle.
Posters are good, but need to interesting information that someone could read when they were bored or peeing.
If we arrived earlier than the day before, we could have put more of them up.
Should have FREE in bigger letters (or it should say "FREE with a guilt trip")
"Interact with your smartphone" was our key selling point - so it needs to be
stated!
All of the paper stuff was bought from The Fringe Shop. We don't know how good they are compared to everyone else (as we haven't tried anyone else), but they delivered to the venue which is less heavy on the old limbs.
When it came to actual flyering itself, trying to engage people with our tin foil dinosaurs worked a lot better than just handing them a flyer.
Next time we will
Follow all the rules up there ↑
Really buy less - we really upset Gaia throwing all that paper away.
Writing a Press Release and Reviewers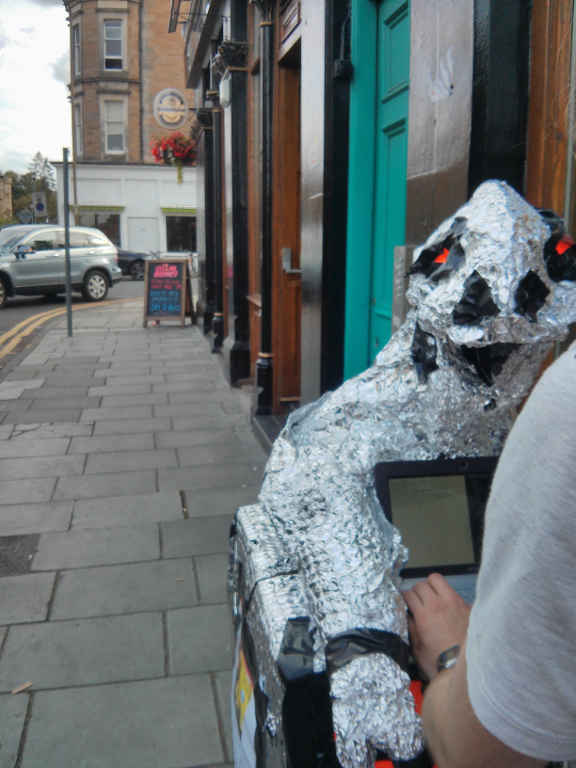 Q. Wow you guys got a ★★★★★ 5 Star review from Broadway Baby, you must have been all sorted with your press stuff?
We didn't send out any press releases beforehand.
Q. Oh right, because you're too cool for that?
Yes, because we're coolness, but also because we're clueless. One has to understand there are not many press releases in the world of IT consultancy.
Q. So it's more that the reviewer was in the venue by coincidence?
Exactly - we just got lucky.
We were asked by the reviewer for a press release, so we ended up writing it on a netbook in the rain under the cover of Mark II near a cafe with WiFi.
To show you what a "My First Press Release" looks like (and because when we tried to google "Edinburgh Press Release", we couldn't find anything) - here is ours, which was also checked by a person in the Edinburgh Fringe Central Press Office. Whatever that means.
---
Foxdog Studios Ltd present:

IT Rock 'n' Roll: Business trip to the future

Rock 'n' roll combined with homemade computer programs - it's entertainment from the future for an audience of the present.

As teenagers, Lloyd Henning and Peter Sutton wanted to be rock stars, but accidentally did degrees in computer science. They now run Foxdog Studios Ltd., a failing startup, hit hard by the recession and a lack of investors for their J-cloth shirt (patent pending).

Despite their current downturn, they know success is inevitable. To expedite their rise to the top and skip the hard work, they obtain licenses to time travel and head thirty years into the future. Here, they acquire their future selves' most successful invention: I.T. Rock 'n' Roll.

For those who haven't been to 2044, the future will allow you to;

Rock out with a dinosaur singing lyrics texted in by the audience.

Play as a punctuation mark on our projector screen, avoiding falling zeroes using your smartphone as a controller.

Watch as body tracking turns Peter into the world's most exhausting dancing synthesizer.

Laugh, cry and learn more about cables as Foxdog Studios takes you on a business trip to the future.

---

Foxdog Studios began combining their expert knowledge of computer programming with their limited talent as musicians in August 2013, surprising audiences at open mic nights in Manchester with 15 minute bursts of computer based nonsense. Over the new year they debugged their programs and have been beta-testing their full show to audiences at self-hosted gigs in the Greater Manchester area.

This is their first Edinburgh festival fringe, and their first summer outside of their living room since Microsoft took them to Poland in 2010.
---
Q. And sending that brought in swathes more critics, reviewers and journos?
Turns out no one replies to your emails in the middle of the festival (if you're us at least), but it was good practice for next year.
Q. Doesn't Broadway Baby give 5 stars to everyone?
See the chart below and reconsider your position.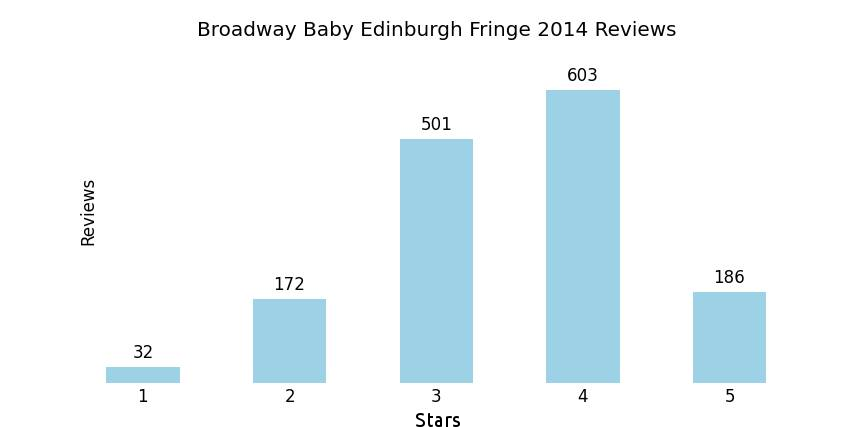 Next time we will
Write and send out a bloomin' brilliant press release - well in advance.
It costs an undesirable amount of money
Q. How much money did you waste?
Here's a table of expenses/income whilst over 25 days of fringe-ing.
Item
Cost
Rent 1 bedroom flat in Edinburgh
-£1451.00
Food and Drink
-£800.00
Rent in Manchester
-£750.00
5000 A6 flyers (twice what we used) and 100 A3 posters
-£125.00
Phone screen repair
-£99.00
Petrol
-£64.53
Edinburgh Festival Fringe Society Registration
-£295.20
Laughing Horse Free Festival Registration
-£60.00
Broken radiator car repairs
-£195.79
Car parking ticket on last day whilst loading the car
-£30.00
Expenses Subtotal
-£3070.47
Audience donations
£813.03
Total
-£2257.44
Q. You are idiots. Does it have to be that expensive?
Here's somethings that could have saved us money:
Not paying rent at home in Manchester. Sublet? Is that illegal? Who knows.
Shared our flat in Edinburgh with more people. But we are weird and really
difficult to live with, so we thought it best to pay more to be strange alone.
Earn more money. We got around £32 a night, with it peaking towards the as we
had larger audiences (talking big bucks, £70). To break even we'd need to make almost double that every night, A.K.A. £122.82.
And not smashing Lloyd's phone screen 10 minutes before we went on stage.
Next time we will
Do a better donation speech, perhaps show the above table to aid the audience
in appreciating just how stupid we are.
Nerdy list of practical things to bring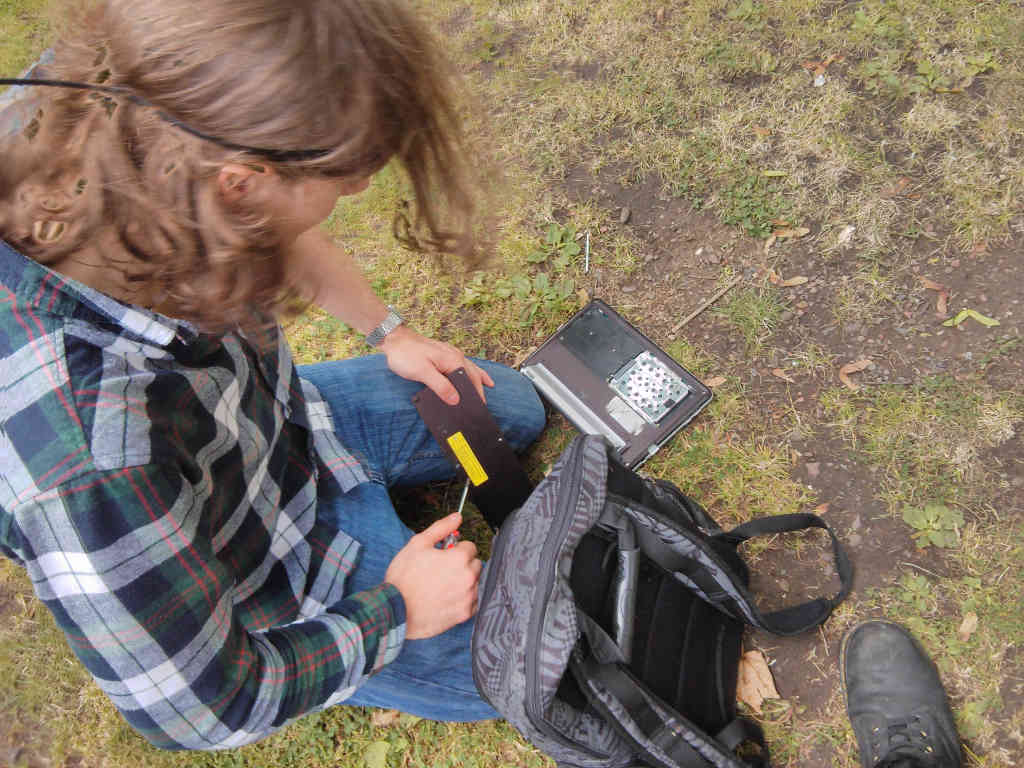 Q. Can you streetwise nerds tell me what I need to survive outside?
Blu-Tack® - for putting up posters
Big permanent marker - for writing on posters.
Biros, multi coloured - for writing on flyers.
Pliers - for dealing with guitar strings and staples.
Screwdrivers - for repairing computers.
Wrench - for repairing bicycles.
Staplers & scissors - for attaching flashings, these are available to use for free
in Fringe Central.
Duct tape - for fixing and affixing cables.
Electrical tape - for labelling cables.
Rope and bungee cords - to fasten things together.
Bags - everything is easier to carry when collected into bags, an amazing
technology.
Cable boxes - with enough compartments for each cable to live in their own
untangled world.
Q. I want to go full independent nerd, what do I need?
Your own lighting, to ensure you can be lit how you want (no one could see our
faces).
Hands-free/Van Halen Microphones? We're still undecided.
Your own PA, cables, mixer, sound engineer - trust no one.
A projector with something to prop it up so you can place it on a table -
don't rely on one being in a venue.
Vaguely organized miscellaneous tips
Q. Any more boring general things to put here for next year and completely ignore?
Okay, brain flush time, here we go...
Accomodation
Somewhere that allows you to store your bicycles.
Travel
Bring a bicycle, saves time getting to and from the venue.
Get a trailer for your bicycle, carry all your props.
Do some googling beforehand for free parking spaces maps.
We left our car on the outskirts of thecity for the duration of the festival, and it wasn't too broken by the end.
Food
Buy bread and cheese so you can form sandwiches on the fly.
Kebabs are rubbish in Edinburgh, don't buy.
Chips from the chippy are often soggy, too hit and miss.
Edinburgh pizzas are good - the one next to Bob's Bookshop especially.
Fresh fruit from grocers good.
Food from Argyle Bar is good.
Mosque Kitchen is good.
Personal health
You are going to get ill. You will come into contact with lots of people with
exotic bacteria for 25 days.
Bring tissues.
Buy Strepsils® - shouting at strangers every night will leave your throat
shredded like pork.
Things for future IT Rock N Roll shows
Phone controls.
Put instructions on phone screens.
Audience needs feedback that they are pressing a button and things are
happening.
Light up the player's controller when they are activated.
Let them know it is real, not pre-programmed. Make sure the "cool" bits are
obvious and prove to the audience that you aren't tricking them.
Give them something to see when they are on WiFi and nothing is happening
People think we're capturing all sorts of data about them - tell those tinfoil
-hat nut balls we don't have the skills to pull that off.
The Business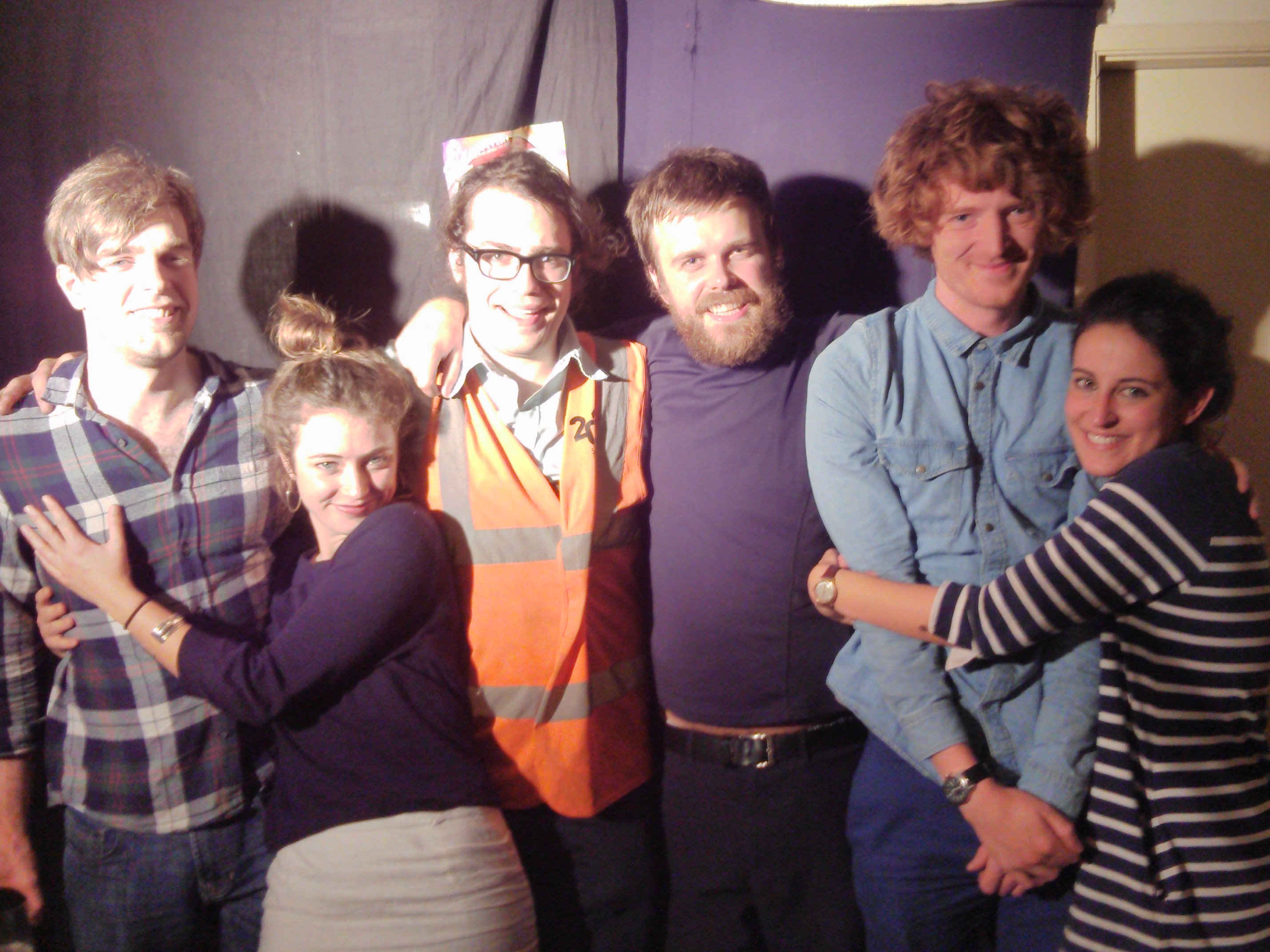 We managed to convince someone to be our sound engineer, namely Alex Marczak, who did the best at it in all the world.
Also we tech'd for the act after us, Intuitive Creatures, who were also able to tech us in return when our sound engineer was away.
Q. Do you have any last vital pieces of life's puzzle to share with us?
Yes, the last known picture of Mark II before he was put in a bin.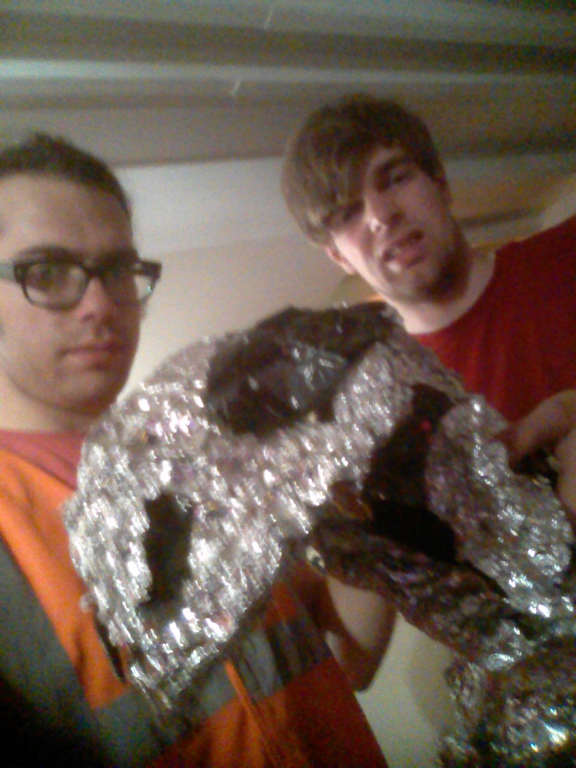 R.I.P. By the power of recycling, may he be reborn as a foil pie dish.